Description
---
The Haakaa Fresh Food Feeder & Cover Set is the perfect way to safely introduce new flavours to your baby without the risk of choking.
The Fresh Food Feeder & Cover Set is the same design that mums and babies love, with a new pouch cover to freeze liquids directly inside the pouch!
Soft silicone pouch with small holes that allow only small, digestible pieces to pass through.
Includes a leakproof pouch cover so you can freeze perfectly-sized icy treats directly in the Feeder.
Feet on the cap allow the Feeder to be stored upright.
Lip on the lid makes the pouch easier to access for cleaning/filling.
Textured bunny ears on the other side keep busy little hands entertained.
BPA, PVC & phthalate-free.
Silicone Pouch Cover
The new Silicone Pouch Cover allows you to freeze icy treats straight into the Feeder! Simply slip the leakproof pouch cover over the pouch, pour liquid (such as breast milk or finely puréed food) into the pouch, assemble the Feeder, place the cap on and freeze! Once frozen, remove the pouch cover and let your little one explore new tastes and sensations.
Using the Silicone Pouch Cover
1. Fit the pouch cover over the silicone pouch.
2. Fill the silicone pouch with liquid, ensuring that the level does not exceed the groove on the cover.
3. Assemble the Feeder, put on the car and place in the freezer.
4. Once frozen, remove the cap. Take off the cover by twisting the tab to loosen and slip the cover off. You can then give the Fresh Food Feeder to your little one.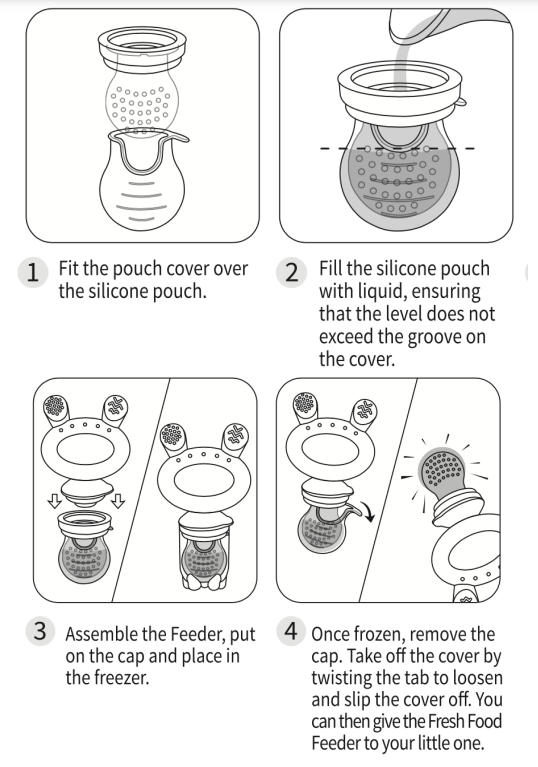 CLEANING & CARE
Dishwasher safe, easy to use and clean.
Microwave steriliser safe.
Wash the Fresh Food Feeder before and after each use. Although dishwasher safe, we recommend washing in warm, soapy water.
Do not use any bleach-based cleaners or tablets to sterilise or clean this product.
To sterilise, use a steam steriliser or boil in water for 2-3 minutes. Silicone may absorb the colours of foods it comes in contact with.
To minimise discolouring, wash immediately after use.
CAUTION:
Check product condition regularly. Replace if this product shows any signs of damage.
Do not store near any sharp objects.
Only soft bristle brushes or soft sponges should be used to clean this product as hard scourers may scratch the surface.
This product is not a toy. Do not use this product for anything other than its intended use.
Store product in a cool, dry place and avoid direct sunlight.
Adult supervision is required.